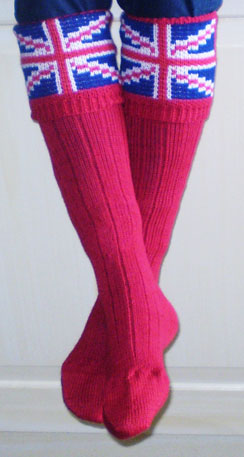 Why not have a pair of truly patriotic stockings - wear them in Scotland for the Union (Jack) or at any other sporting occasion; World Cups, or any time you want to support the UK. To keep things fair, we can knit the 'saltire' although we are committed to the UNITED Kingdom.

Almost Unwearoutable supports 'United Kingdom plc' - because that's where everything is knitted!

Upgrade your thickness; from 4ply to 8ply for just £15. Well developed legs? There is a £10 charge for socks which are above the normal size range. (Calf above 17½" and leg length longer than 20")

Only available in red or blue (with white of course!).

Ordering from the USA? Just pop your USA shoe size in the Special Instructions box.