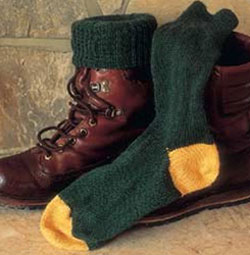 These socks are central to the wardrobe of anyone who enjoys outdoor pursuits; from walking to wading, or golfing to ski-ing. Stylish and hardwearing, they are knitted in Northumberland by knitters in their own homes on traditional circular sock looms, which were first made back in the 1860s.

Our classic socks are available in 4 ply - slightly thicker than shop-bought socks - but made to fit comfortably inside shoes. For boots and wellies, we recommend our excellent 8 ply option. (Upgrade from 4ply to 8 ply for only £7.50).

They are made of 75% wool and 25% polyamide, and reinforced with thread in both toes and heels. What's more, these classic socks are machine washable too.

Average leg length for socks is 12 inches (30 cms). If you want even larger sizes, or are ordering smaller socks for children, just email us

Ordering from the USA? Just pop your USA shoe size in the Special Instructions box.