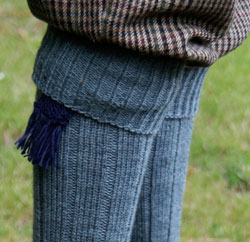 Knee-length classic stockings that will withstand tough treatment and frequent use, and still look as good as ever. These stockings are ever popular with golfers, walkers, skiers, gamekeepers and shooters and work well for plus twos and plus fours.

They are knitted 18" from base of heel to top not including the turnover. However these can be produced to any measurements so please let us know if you want them longer or wider - Just put your request into the Special Instructions box.

Choose 4 ply for inside shoes or the warmer 8 ply for boots and wellies. 8 ply are a favourite with gamekeepers; the stockings do not snag on barbed wire or heather. We use two strands of wool twisted together to make a really tough stocking and they certainly live up to their name.
They are made of 75% wool and 25% polyamide, and are reinforced with thread in toes and heels, as with all our products they are machine washable..
Upgrade from 4ply to 8ply thickness for only £15 - and why not add some Garters too?

Well developed legs? There is a £10 charge for socks above the normal size range (Calf above 17½" and leg length longer than 20")
Ordering from the USA? Just pop your USA shoe size in the Special Instructions box.